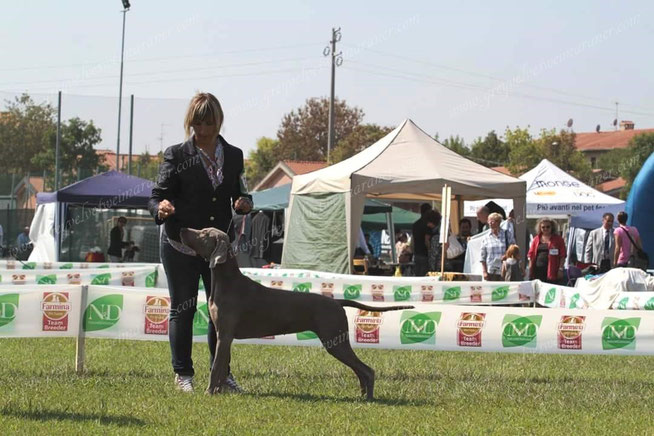 GRCH Charlize Theron aka Brenda
Multi CH Weimaranus Quartz Movement x CH Russian Roulette Imperium Star
27/04/2011 - 28/03/2019
Whole and exact teeth
HD B1 - ED 0
DNA registred
Awsome female dog, well proportioned, extremly elegant way, very effusive and obedient. Versatile hunting dog, passionate in the search, stylish point and very natural retriving. Excellent life partner and wonderful mother for her puppies.
Beauty Titles
Italian Junior Champion
Italian Club Champion for Standard Compliance
San Marino Champion
Cyprus Champion
Georgia Champion
Gran Champion of Cyprus
Gran Champion of Georgia
Italian Beauty Champion
International Beauty Champion - C.I.B.
CRUFTS 2015 Qualification
Work Titles
P.A.V. (Hunting Aptitude Trial)
Retrieving Patent
P.A.R. point 177 (Breeding Qualification Trial)
Promising Junior Club
Work Club Champion
Beauty/Work Titles
Absolute Club Champion
Selected Reproducer ENCI
---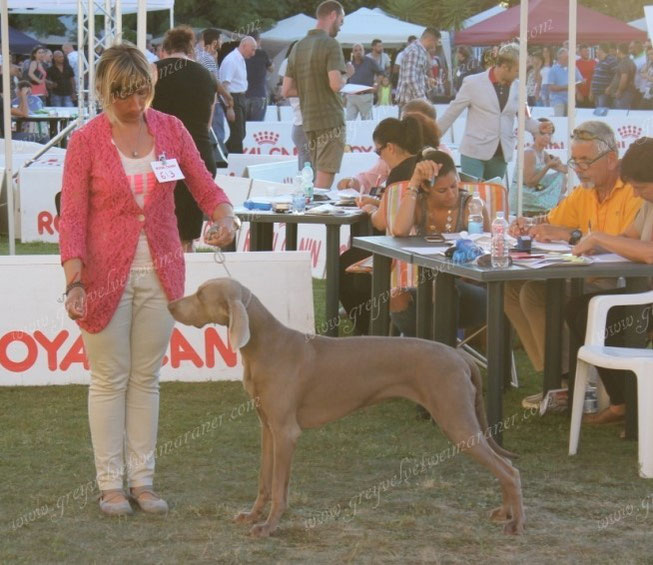 Multi CH O.G. Santa Claus Dasher aka Blanke
Multi CH Edmund Von Walhalla x GRCH Charlize Theron
Born on 16/12/2013
Whole and exact teeth - Dental document ENCI
HD A - ED 0
DNA registred
Awsome female dog with solid and well proportioned structure. Beautiful way, with a strong character and attitude. Versatile hunting dog with a strong predisposition to the work. Wide search and powerful gallop, stylish point and very natural retriever.  Great promise of breeding and thoroughly devoted life partner.
Beauty Titles
Italian Club Champion for Standard Compliance
Italian Beauty Champion
Work Titles
P.A.V. (Hunting Aptitude Trial)
Retrieving Patent
VJP 67 points
Promising Junior Club
P.A.R. 199 points
Work Club Champion 
Beauty/Work Titles
Absolute Club Champion 
Selected Reproducer ENCI
---
CH Grey Velvet Atacama Desert Rose aka Gioia
Multi CH Aalto Just Weimaraner x GRCH Charlize Theron
Born on 20/10/2016
Whole and exact teeth - Dental document ENCI
 HD B1 - ED BL
Luxation patella LEVEL 0
DM esone 2 (degenerative myelopathy): WT/WT - N/N
MH (malignant hyperthermia): N/N
HYM (congenital hypomyelination - shaking puppy syndrom): N/N
HUU (hyperuricosuria): N/N
CDPA (chondrodhysplasia): N/N
CDDY & IVDD (chondrodystrophy): N/N
(Spinal dysraphism): N/N
DNA registred
Beauty Titles 
 Speranza ENCI Winner 2017
 Romagna Winner 2019 and 2020
 4th/12 at European Dog Show 2019
 San Marino Champion
---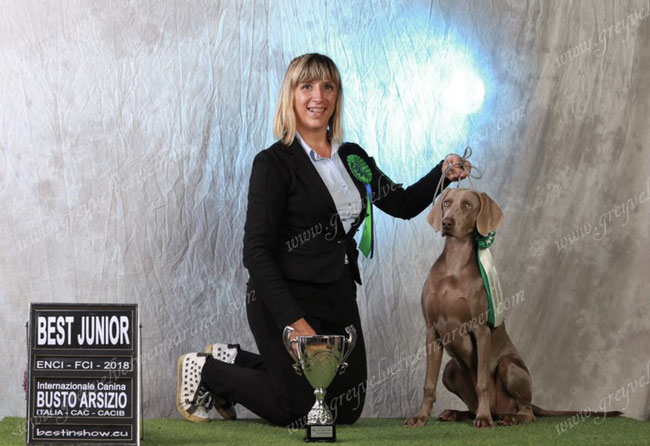 JCH Grey Velvet Bufera aka Bufera
Multi CH Fenomena Team Yoshihiro x Multi CH O.G. Santa Claus Dasher
 Born on 03/05/2018
Whole and exact teeth
HD A - ED 0
DM esone 2 (degenerative myelopathy): N/N
MH (malignant hyperthermia): N/N
HYM (congenital hypomyelination - shaking puppy syndrom): N/N
HUU (hyperuricosuria): N/N
CDPA (chondrodhysplasia): N/N
CDDY & IVDD (chondrodystrophy): N/N
(Spinal dysraphism): N/N
Hair length: L/L (short hair)
DNA registred
Beauty Titles
        Romagna Winner 2019
        San Marino Junior Champion
---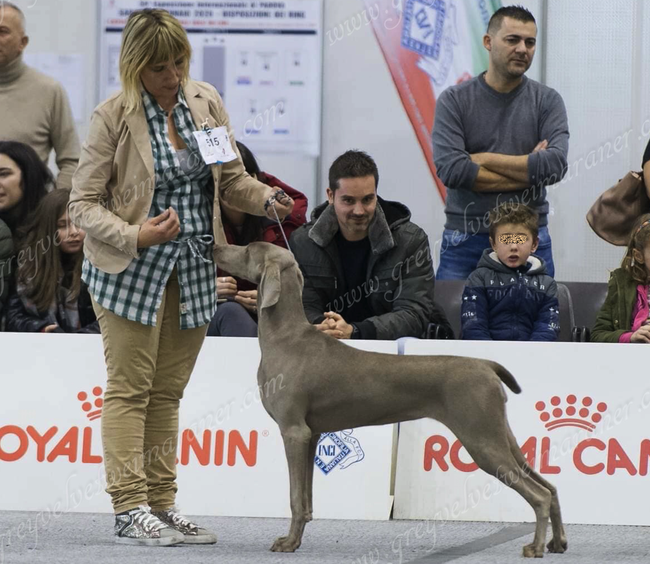 CH Pink Rock Princess du Domaine des Tommycknockers aka Pink
Multi CH Belfegorus Feels Like a Rock Star x MultiCH TR Jessie James des Fantomes Gris de la Sélune
Born on 29/04/2019
Whole and exact teeth
HD B1 - ED 0
Luxation patella LEVEL 0
DM esone 2 (degenerative myelopathy): N/N
MH (malignant hyperthermia): N/N
HYM (congenital hypomyelination - shaking puppy syndrom): N/N
HUU (hyperuricosuria): N/N
CDPA (chondrodhysplasia): N/N
CDDY & IVDD (chondrodystrophy): N/N
(Spinal dysraphism): N/N
Hair length: L/L (short hair)
DNA registred
Beauty Titles
    Most Promising Weimaraner Baby 2019
    Romagna Winner 2020
---
Multi CH Grey Velvet Weim Caipiroska aka Shelby
Multi CH/BIS Trialer Fly Me To The Moon Von Silberweiss Jager x CH Grey Velvet Atacama Desert Rose
Born on 30/09/2019
Whole and exact teeth - Dental document ENCI
HD A - ED 0
Luxation patella LEVEL 0
DM esone 2 (degenerative myelopathy): N/N
MH (malignant hyperthermia): N/N
HYM (congenital hypomyelination - shaking puppy syndrom): N/N
HUU (hyperuricosuria): N/N
CDPA (chondrodhysplasia): N/N
CDDY & IVDD (chondrodystrophy): N/N
(Spinal dysraphism): N/N
Hair length: L/L (short hair)
DNA registred
Beauty Titles
CRUFTS 2022 Qualification
Slovenian Show Champion
San Marino Champion
---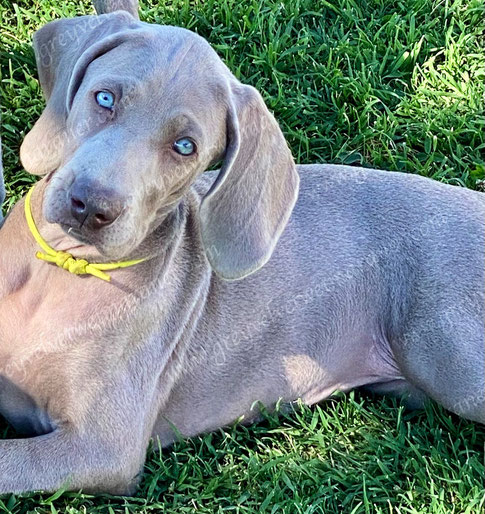 Grey Velvet Weim French Marigold aka Bugia
Grey Velvet Burian x Grey Velvet Atacama Desert Rose
Born on 11/04/2021
Whole and exact teeth 
HD A - ED 0
Luxation patella LEVEL 0
DM esone 2 (degenerative myelopathy): WT/WT - N/N
MH (malignant hyperthermia): N/N
HYM (congenital hypomyelination - shaking puppy syndrom): N/N
HUU (hyperuricosuria): N/N
CDPA (chondrodhysplasia): N/N
CDDY & IVDD (chondrodystrophy): N/N
(Spinal dysraphism): N/N
DNA registred 
 Beauty Titles
FCI World Promise 2021
4th/8 at European Dog Show 2021
---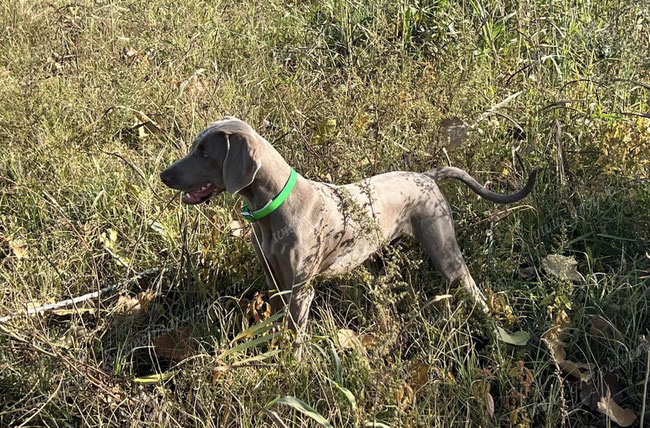 Grey Velvet Weim Happy Feet aka Happy
Benito Von Der Grau x JCH Grey Velvet Bufera
Born on 07/05/2022
Correct teeth
HD A - ED 0
Luxation patella LEVEL 0 
 Beauty Titles
     San Marino Junior Champion